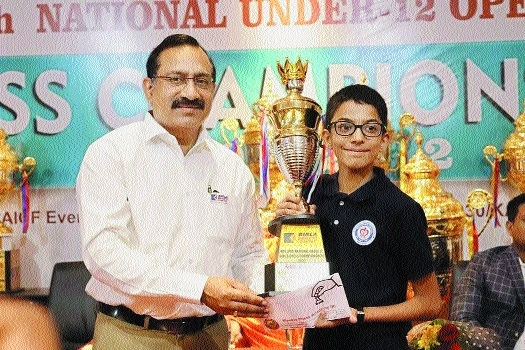 Vivaan excels in national chess competition
Sports journalist :
CITY's budding chess player Vivaan Vijay Saraogi finished fourth in the 34th Under-12 National Open Chess Championship recently hosted by Mandya Chess Academy, Mandya and District Chess Association and New Tumkur District Chess at Amaravathi Hotel, Srinivasapura, Mysore-Bangalore Highway, Mandya. In the competition, Vivaan, who started as the 17th seed, collected 8.5 points over 11 rounds to finish fourth. Vivaan received a trophy and cash prize of Rs 35,000. Vivaan, 11, recorded seven wins and three draws.
He started with wins over Hridhant Sharma of Assam and Nivaan Raghavendra of Karnataka. In the third round, he shared the point with Vedant Garg of Chandigarh and then bounced back with another victory over Ayaan Garg, also of Chandigarh. In rounds 5 and 6, Vivaan picked up the full point with wins over Sriram Adarsh ​​Uppala of Telangana and Aakash G. of Tamil Nadu. Vaz Ethan of Goa stopped Vivaan in the seventh round but the lad from Nagpur bounced back with an 8th round win over Challa Saharsha of Telangana. In the ninth round Vivaan drew with Sathvik Adiga of Karnataka then in the 10th round he beat Tanmay Rajbongshi of Assam. Vivaan finished the tournament with a draw with Md Reyan of Bihar to finish with 8.5 points in their prize pool. Bhushan Shriwas, secretary of the Chess Association Nagpur, congratulated Vivaan on his success in the national competition.