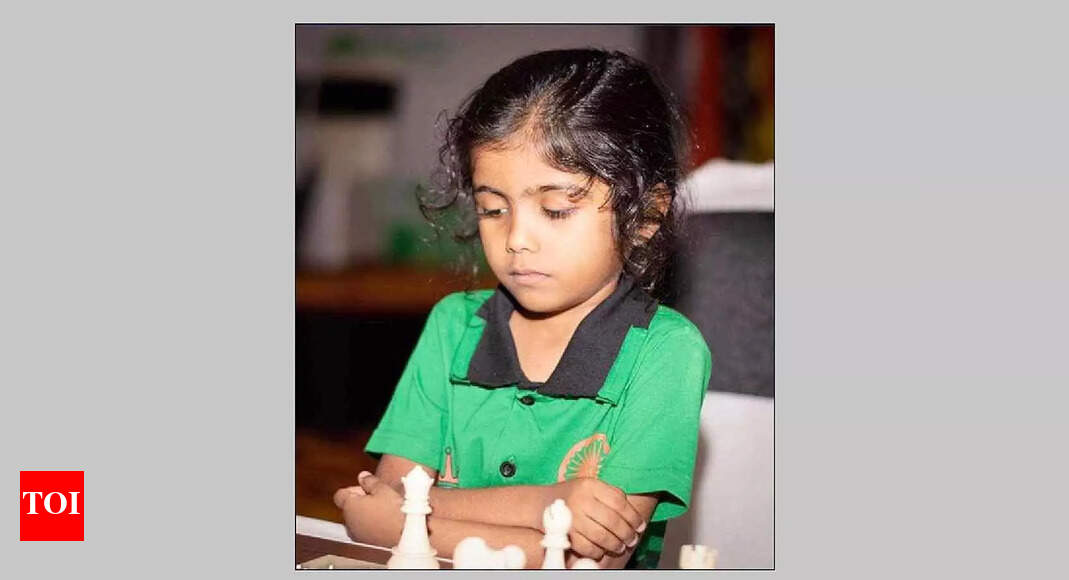 Vedika wins first national medal, to represent India in West Asian chess | Chess News
[ad_1]
NAGPUR: Vedika Pal has become the city's new chess star after the eight-year-old won her first national medal.
Three years after taking her first step on the 64 checkerboard squares while playing with her father in their residence in Narendra Nagar, Vedika, a student at BVM, Civil Lines, won the bronze medal at the U-8 National Chess Championship .
The Selection Tournament, played online in a quick format, was hosted by the All-India Chess Federation (AICF) in different age categories.
In the girls' group of the 11-round competition, Vedika narrowly missed out on gold after being pressed for time to lose the final round to eventual champion Pooja Shree R of Tamil Nadu.
There were 135 participants from across the country. Vedika started the event as the 83rd seed. She gave a performance score of 1211 to end the tournament in an honorable third position with 8.5 points. Pooja Shree won gold with 10 points while Samhita Pungavanam from Telangana took silver with nine points.
En route to winning her first national medal, Vedika won eight rounds, drew and lost two, including the final.
With a podium at the national championship, Vedika secured the right to represent the country at the West Asian
Chess
Championship which will also be played online from September 18-20. The three-day international event is organized by the Sri Lanka Chess Federation under the aegis of the Asian Chess Federation (ACF) and the International Chess Federation (FIDE).
Earlier in the Maharashtra state selection tournament, Vedika won a silver medal to seal her place in the national tournament.
She is the daughter of Vijay Kumar and Dr Mamta Pal. She is trained by Bhushan Shriwas.
[ad_2]