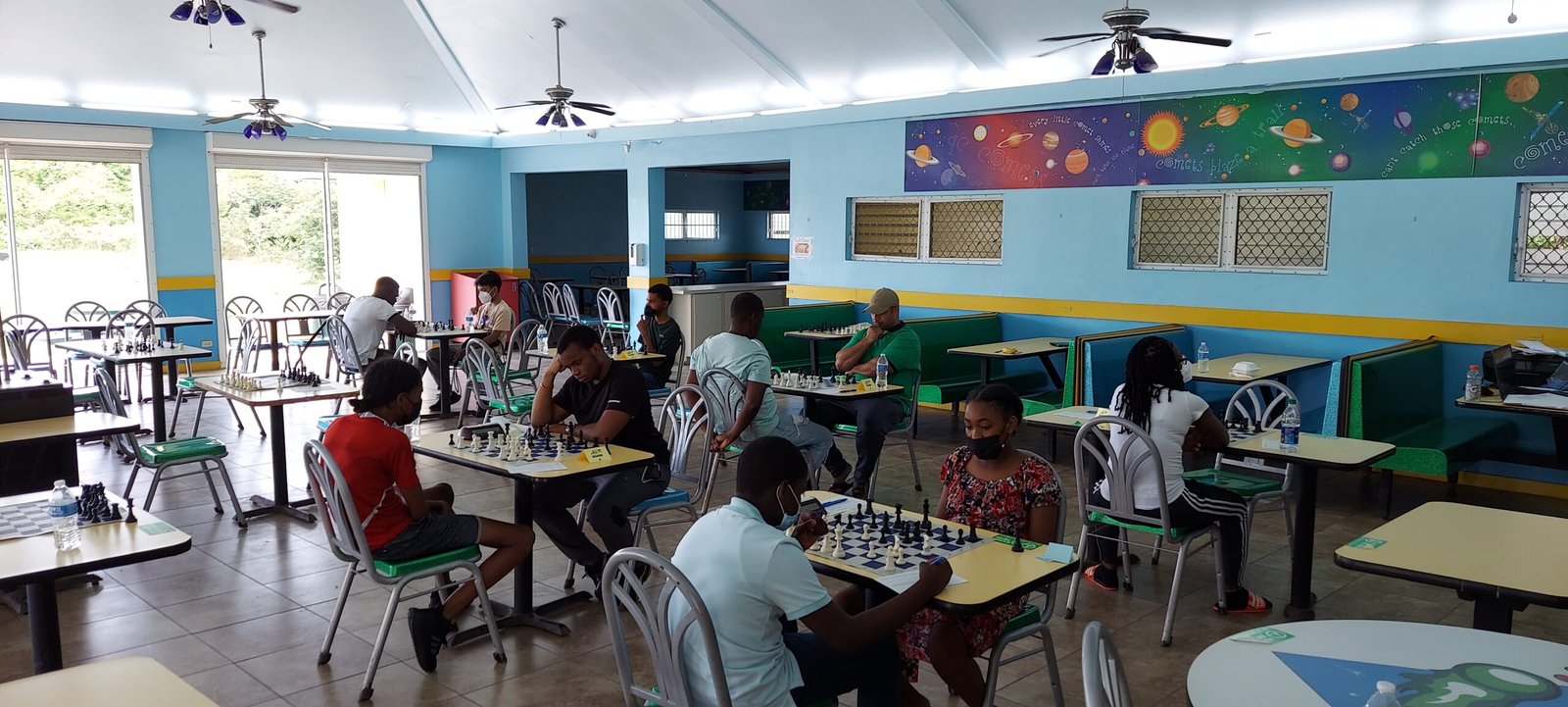 The 2022 Warren Seymour Chess Classic sees the nation's best players compete
Noah Albury wins 2022 Warren Seymour Classic after thrilling playoffs
NASSAU, BAHAMAS – The 2022 Warren Seymour Classic has been exciting, full of surprises and upheavals.
The Annual Classic is an open tournament in which junior and senior players compete.
The 2022 Warren Seymour Classic took place this past weekend at QCafe, starting on Saturday June 25 and culminating on Sunday June 26.
The Warren Seymour Classic is a five-round Swiss format, one match in 60 minutes plus five seconds per move.
The Warren Seymour Classic is FIDE rated and a qualifier for the prestigious Bahamas National Chess Championship.
This year, the Bahamas National Chess Championship is scheduled for November 2022.
In the Open category, Noah Albury pulled off the surprise to take the title of winner of the Warren Seymour Chess Classic 2022.
Shawn Barker took second place and FM Cecil Moncur placed third in the open category.
The open category in chess refers to a competition in which anyone can participate, regardless of age or experience.
In the junior section, Trevor Bridgewater won first place.
Theophilus Weir got second place and Chika Pride third place.
As is tradition at this tournament, in addition to their medals, the winners of the junior section also received books to help them improve their skills.
The Warren Seymour Classic is named for Bahamian hero Warren Seymour.
Mr. Seymour has dedicated over 30 years of his life to developing the sport of chess in the Bahamas and contributing to the development of hundreds of young Bahamians.
During his peak, Mr. Seymour selflessly visited more than 30 schools a month, training young men and women in critical thinking and helping them develop good decision-making skills.
Without any financial gain, he also taught chess in penitentiary establishments and helped rehabilitate prisoners.
"The 2022 Warren Seymour Classic was an exciting tournament with the most upheaval I have ever seen," said Elton Joseph, Treasurer of the Bahamas Chess Federation and Deputy Chief Arbiter of the 2022 Warren Seymour Classic. .
He added: "The upheavals prove that chess in the Bahamas is growing and the skills of our junior players and some of our senior players are improving and developing.
"The results of this tournament have been exciting and encouraging.
"A lot of matches have gone to the wire, with many players winning the match with only seconds on the clock.
"Even with one hour of play and five seconds added to each move, many players still needed more time, this is a normal phenomenon for chess because even with five hour games players still need more time.
"Players usually don't feel how long they've been playing until the game is over."
Mr Joseph congratulated the new Warren Seymour 2022 champion, Noah Albury.
He said it was great to see how the juniors have developed throughout the lockdowns associated with the pandemic and the seniors, who have been striving to become among the "country's strongest in 2022".
Warren Seymour Chess Classic Results
Open section
1st place – Noah Albury
2nd place – Shawn Barker
3rd place – FM Cecil Moncur
4th place – CM Kendrick Knowles
Youth section
1st place – Trevor Bridgewater
2nd place – Theophile Weir
3rd place – Chika Pride