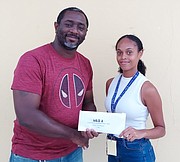 'Surprising upheavals' in Bahamas Chess Federation Easter Qualifiers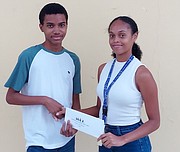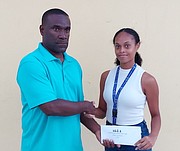 The Bahamas Chess Federation Easter 2022 Qualifier was a hotly contested tournament filled with intense competition and surprising upheaval.
Held on April 22 at QCafe, Queen's College, this FIDE-rated tournament was a five-round Swiss format match in 60 minutes per player.
The one-day tournament lasted eight hours. The top two men and top two women earned a spot on the Bahamas National Olympiad team.
The Chess Olympiad is the biggest chess event in the world.
FIDE Olympiad 2022 will be held from July 28 to August 9 this year in Chennai, India. The Olympiad takes place every two years.
Online Olympiads were held in 2020 and 2021 during the COVID-19 pandemic. The new over-the-board Olympiad was postponed and awarded in Moscow, but following the war in Ukraine it was moved to India. The qualifying squad for the Bahamas 2022 Olympic Team Open Section includes CM Kendrick Knowles, Shawn Barker, Dr. Kenville Lockhart and Noah Albury.
The qualifying squad for the Women's Section of the Bahamas 2022 Olympic Team consists of Chika Pride, Jayla Cargill and Nelissa Thomas.
CM Knowles, Mr Barker and Chika Pride, the youngest member of the team, qualified at the BCF Qualifier held earlier this year.
The final member of the open team and the final two members of the women's team will be selected by the Bahamas Chess Federation (BCF) based on skill level, participation, contribution to the development of the BCF and individual participation in qualifications.
"The Bahamas Chess Federation is once again highlighting the incredible growth of chess in the country, this weekend's tournament was no exception," said CM Kendrick Knowles, President of the Bahamas Chess Federation. Bahamas. "We witnessed some incredible young talent among all participants, with our top two finishers being relatively new to chess competitions but showing considerable strength.
"We would like to congratulate Dr. Kenville Lockhart and rising young star Noah Albury on their first and second place finishes respectively.
"Noah was able to accomplish this feat against his former coach and well-experienced Round 5 opponent FM Cecil Moncur. FM Moncur finished third and was thrilled to duel with his student and said how great he was. proud of Noah's improvement and patience on the board.
Easter qualification
Results 2022
1st Place – Dr. Kenville Lockhart
2nd place – Noah Albury
3rd place – FM Cecil Moncur
Easter 2022 qualifying
Women's results
1st place – Jayla Cargill
2nd place – Nelissa Thomas
3rd place – Pride Chika