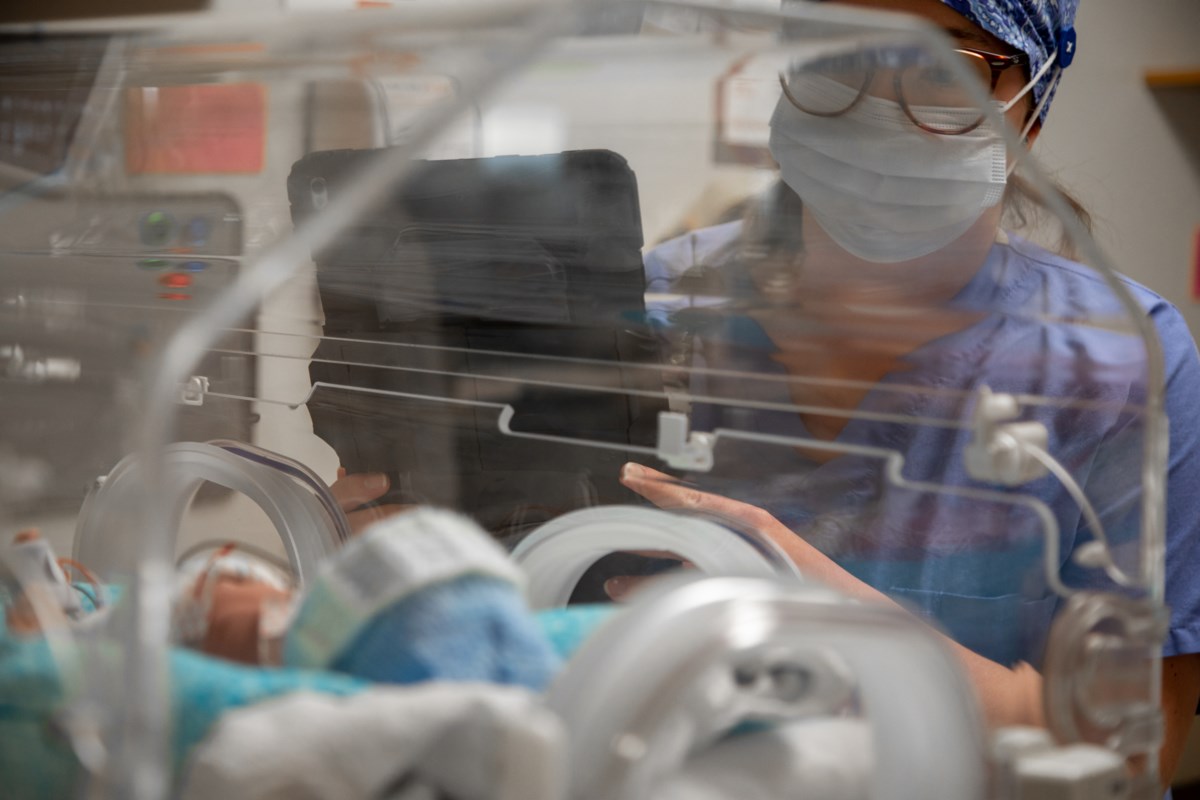 Southlake at Capacity: Finding room for moms, babies "love chess games"
[ad_1]
Newmarket Hospital's dedicated team of physical constraints manages 2,600 deliveries per year, while advancing complex care programs
At the postpartum unit of the Southlake Regional Health Center, new mothers can recover in a private family suite equipped with its own bathroom, TV, wifi, refrigerator, microwave oven -waves and a trundle bed. The room is large enough to comfortably accommodate a support person and additional children.
Unfortunately, the rest is not covered by OHIP.
Neither is a private or even semi-private room. What is covered is a shared room with two other new moms.
Technically, a postpartum unit doesn't even exist – it was taken over two years ago by the medical program, said Sheena Shannon, head of the mother-to-child and postpartum program at the hospital. from Newmarket.
Most nearby hospitals have renovated birthing units, but Southlake's Mother-to-Child Program has not seen many renovations in almost 20 years.
Even though it had been improved, there is simply not enough physical space to accommodate the steadily increasing number of patients the hospital has seen over the past 30 years.
In the newer York Region hospital and many others, private family suites are the norm for postpartum patients, while in Southlake a private postpartum room can be difficult to find even if a patient is willing to pay for it.
"Depending on our degree of occupancy, (patients) might want a private room and we just don't have that capacity," said Stephanie Simson, head of pediatrics and the neonatal intensive care unit (NICU). .
What remains is a standard three-bed room with dividing curtains.
"If you have three moms and three dads and three cribs and all the gear that people bring like car seats, it's really really crowded. I'd say it's probably dangerous because people can run into it. We have to be very careful and strategic where we put things. It's a challenge, "Shannon said.
There are only eight beds for postpartum patients and the overflow is sent to the pediatric unit. If a private room is not available, these patients are also transferred to pediatrics.
With 2,600 deliveries per year, "it can be pretty tight," Shannon said.
"It's like a game of chess. Who needs what blanket and where can we go and then we move people around all the time, which just uses resources and time. In an ideal world, everyone would have a private room for himself, "she said.
A new mother with six-day-old twins started in a delivery room and ended up in a semi-private pediatric room. Because she had twins, she didn't have to share the room and joked that she had found a loophole to secure a private room.
The father of the babies, a parent and two large bassinet cribs were in the room with the new mother. Even without a second patient, the room was already full.
If there had been a second patient with a baby, the curtain separating the two beds would have closed, leaving an unlucky mother without the sun.
"I couldn't imagine having to share. And just have natural light here, otherwise we would be locked up. And their schedule would be different from my schedule for feedings," she said.
Before ending up in the semi-private room, the new parents used private insurance to secure a birthing room. "And thank goodness we did it," she said.
Paying the additional cost does not guarantee that a patient will get the suite, as rooms are available on a first come, first delivered basis. "It was a race for who would deliver first," she said. Because she had a Caesarean, she got the sequel despite the fact that another woman had arrived before her.
"It made a difference, the room makes a huge difference, you just have the space and the quiet and everything – having to share that, that would have been so difficult."
As the postpartum unit now houses adult medicine – these are often elderly patients awaiting long-term care – the nearby neonatal intensive care unit is locked at all times due to previous cases of stray patients.
"It can be nasty, there are people screaming and screaming sometimes it doesn't smell very good either," Shannon said.
"It's not very pleasant for moms to come here," she added.
"We are constantly looking for spaces and seeing how we can be more effective in providing the same care in the structure that we have," said Simson. "We just don't have enough space for our patients."
In Southlake, the NICU is open plan. There are privacy screens, but in newer hospitals the NICU is made up of individual modules, which Dr. Madeline Drake, neonatal physician at the NICU and the Pediatric Unit, said is ideal.
The pods create a calmer environment for babies and a private space for families to bond with babies, which makes a big difference, Drake said.
The NICU can accommodate 12 babies, but there have been up to 17. A room filled with 12 babies plus 24 parents, staff and machines is very "crowded and noisy," Shannon said, and it is. a challenge to create a space where babies are as little stimulated as possible.
There are normally four nurses per shift each looking after three babies. More than 12 babies require two extra nurses per shift, which Shannon says is difficult to maintain for a long time as part-time staff end up working full-time and full-time staff work overtime , which can lead to Burnout.
"Nurses are amazing. They step in, they come in, they stay late, they help, they are amazing," Drake said.
Pediatricians, NICU, childbirth or postpartum are the type of service you love or hate, Shannon said.
"And if you love it, you'll be there for your entire career. You know, it's right there in your heart. It's your purpose in life – to make sure these families have everything they need. So that's exactly what you do, it's part of you. "
While the hospital has not been able to physically expand to meet community demands, it is expanding in other ways.
Four years ago, the NICU became a Level 2C, meaning the unit can care for younger and sicker babies and provide an increased level of care. That way, Drake said, babies don't need to be transported to another hospital and they can stay closer to their mothers and fathers.
At the start of the pandemic, Southlake became the first hospital in Canada to implement AngelEye in the NICU. The program allows parents to receive real-time virtual updates on their baby's progress via photos, texts and videos when they can't be there in person.
In the fall, Southlake will join the SickKids Complex Care program by becoming a satellite clinic. SickKids nurse practitioners will work with doctors in Southlake to provide complex patient care and eliminate the need to travel outside of their community for clinic visits.
"We're really expanding with the new clinics, a lot of new pediatricians, we've expanded our program, the complex care clinics, so we have all that potential, just find the space," Drake said.
[ad_2]