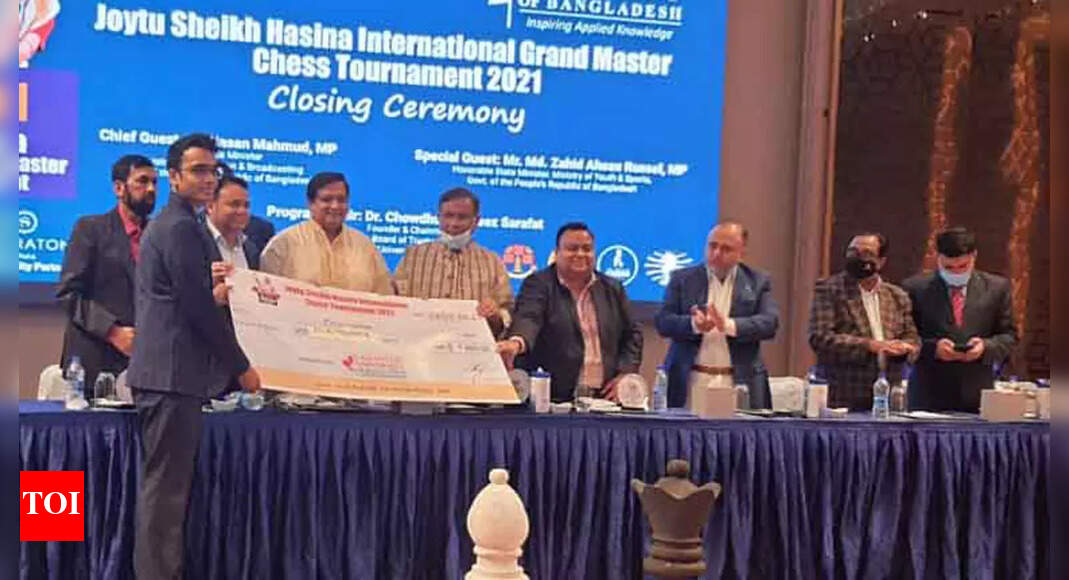 Sankalp Gupta seals gold and wins first international chess tournament in Bangladesh | Chess News
[ad_1]
NAGPUR: Finally, the third International Master (IM) from Nagpur, India, Sankalp Gupta, won his first gold medal in an international chess tournament. The 18-year-old went undefeated to bring home his first yellow metal at the Joytu Sheikh Hasina International Grandmasters Chess Tournament, which ended in Dhaka, Bangladesh on Monday.
Almost missing the top of the standings in various events, a determined Sankalp made his moves with perfection to end the nine-round event with seven points. Indian IMs Mitrabha Guha and Aronyak Ghosh won the silver and bronze medals respectively with 6.5 points.
In the nine-day championship, where a total of 62 participants from nine countries, including nine Grandmasters and 14 IMs competed for the honors, Sankalp started as eighth seed.
On their way to finish the race in the lead, the 2433 Elo Sankalp surprised a few better rated masters before registering victories in five rounds. He shot four games to seal the elusive gold medal by a half point margin.
Sankalp awarded a performance score of 2550 and earned 13.4 Elo points on his way to becoming champion of the over the board tournament played in the sport's standard format.
Sankalp is delighted with how he played and defended superbly from the worst positions. "I am very happy to win the tournament. I played good matches, defended bad positions and it's great to pocket my first gold medal in an international ranking tournament. Now I am aiming for more. I am motivated to do better in the next events, "Sankalp told TOI.
After winning the first round against Ahmed Shafiq of Bangladesh, Sankalp was forced to split the points by two lower-rated players. He drew in the second and third rounds with Indian Subhayan Kunduand and Bangladesh IM Abu Sufian Shakil respectively.
After a cautious start, Sankalp started to play aggressively. Sankalp's attacking style of play surprised his opponents. Defending well with the black pieces, Sankalp recorded a thrilling victory over the only participating GM from the Czech Republic and 20th seed Kislinsky Alexey in a 78-stroke marathon competition.
The morale-boosting victory pumped up Sankalp as he picked up victories in the next three rounds. He beat Bangladeshi FM Debaraj Chatterjee and surprised fifth seed from India, Mitrabha Guha, and Sayantan Das in 10th place to take the lead.
In the penultimate lap, Sankalp made his way from the worst position to hold India's experienced MI Mohammad Nubairshah Shaikh in a long 70-hit battle on the top table.
In the final round, Sankalp made good use of his opening advantage with the white pieces to hold seventh seed IM Aronyak Ghosh and lift his first international trophy.
[ad_2]