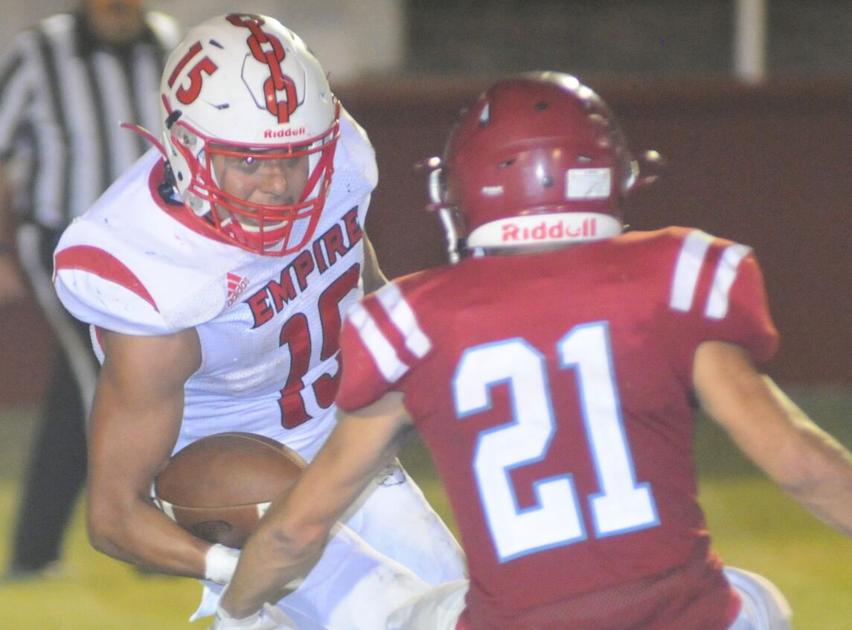 Empire calls checkmate in rival match against Waurika | Sports
[ad_1]
WAURIKA – Empire coach Brant Hayes now has an idea of ​​what a grand chess master must feel when moving key pieces on the grid.
Hayes & Company inserted 'towers' and rotated staff almost everywhere on Friday as the Bulldogs broke a District B-3 stalemate with Waurika, taming the Eagles 48-0 and dominating the neighborhood rivalry game for a second consecutive year.
Sophomore Gabe Diaz, who was forced to split his time between quarterback and running back due to injuries in the Bulldogs backfield, rushed for four touchdowns and threw two more. He controlled the play by recording 411 yards of scrimmage.
Senior Mcray Weber was Diaz's favorite target. Weber caught five passes for two touchdowns and 189 yards. It also had a range of 10 meters.
Waurika was also limited by injuries. The Eagles played without their starting quarterback, fullback and several defensive backs. Waurika started a converted defensive lineman at quarterback. Those same MASH Unit Eagles, however, proved dangerous the week before, beating Central 52-6.
Diaz started the game at quarterback, but running back Damian Goldsberry injured his ankle early in the second quarter and did not return. This forced Diaz's move to the backstroke as well as a cascade of other changes.
Korbin Terrio, who hadn't played in defense all year, replaced Goldsberry in the defensive backfield. Then, at the start of the second half, Santos Benitez got injured, which forced Brodric Spigner to step into action for the first time this season.
"When a player breaks down, you play for that player," said Diaz, who started racing for the Bulldogs all last season. "After playing as a running back all last year, I'm more comfortable as a running back than a quarterback. It was just another Friday night.
On Friday, the Bulldogs scored seven of nine practices, including their first four. Goldsberry ignited the Bulldogs' first practice with a 62-yard run in Empire's third snap. This gave Empire the ball at the Waurika 12-yard line. From there, Diaz went for 4 yards, then scored on an 8-yard jaunt with 7:58 left in the first quarter.
After Empire forced a four-and-out, Diaz found Weber for a 33-yard gain to open the Bulldogs' second practice. Next, Diaz made four straight plays, the last time for a 20-yard touchdown down center to give Empire a 12-0 lead with 3:12 remaining.
Empire forced another three-and-out and then made one of its longest trips of the night. Diaz threw again at Weber to ignite the drive, this time for a gain of 30 yards to 50 and again for a gain of 7 yards. Then Weber ran for 10 yards, but Goldsberry suffered an ankle injury two plays later after being thrown for a 5-yard loss and the reshuffle began.
First-year quarterback Easton Beck came in and immediately completed a 13-yard pass. On the next play, he gave the ball to Diaz, who had moved to Goldsberry's place as the running back, and saw the runner-up rush 22 yards around the right end and into the goals. Beck found Weber for the two-point conversion, and Empire led 20-0 with 10:39 left at halftime.
Waurika responded with his best workout of the night, advancing to Empire 25 – but the Bulldogs stopped a quarterback run three yards from fourth and five. Two plays later, Beck threw the ball to Diaz, who stood up and threw a running back pass to Weber for a 77-yard touchdown. That score gave Empire a 26-0 lead at intermission.
On the first play of the second half, Diaz threw a swing pass to Weber. Chase Couch released a crushing block to free Weber, who ran for 59 yards for a touchdown. Diaz raced for the two-point conversion to give Empire a 34-0 advantage.
Waurika drove to the Empire 13-yard line in the next practice, but a pass from Waurika fell incomplete on the fourth and third. Two plays later, Diaz ran 80 yards to pay for the dirt, then Beck added the two-point conversion to give the 'Dawgs a 42-0 lead.
Beck closed the game with a 20-yard jaunt with 2:25 left in the third stanza. This gave Empire their fourth points victory in seven games.
The Bulldogs limited Waurika to 197 total yards.
The victory keeps Empire in the driver's seat for its second straight District B-3 Championship. The Bulldogs are 7-1 overall and 3-0 in the District with two games to go. Empire will host County rival Central High (3-4, 0-3) at 7 p.m. Friday and close the regular season at home against Cyril (3-4, 2-1) at 7 p.m. on November 5.
[ad_2]