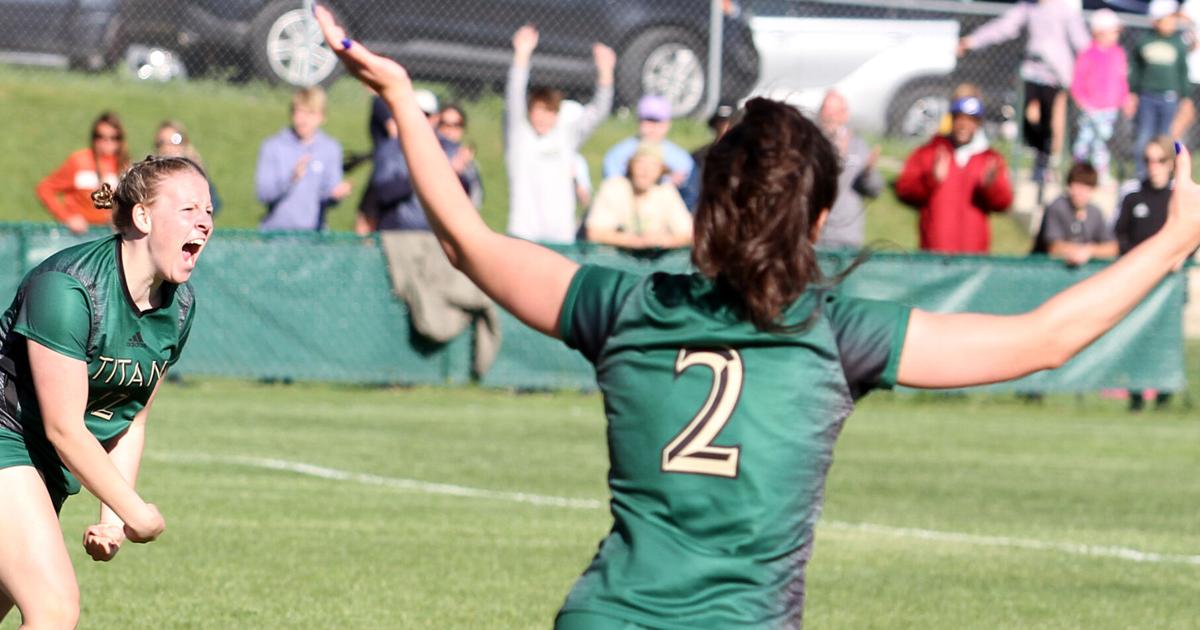 Checkmate: Rooks' 1st goal propels West to District victory | Sports
TRAVERSE CITY — Beatrice Rooks played just her fifth college game on Friday.
She also won her first match.
The second-year Traverse City West defender made one of the plays of the game to lead the Titans to a 4-1 Division 1 District quarter-final win over visiting Midland.
Traverse City West outscored Midland 4-1 in the districts on Friday, with sophomore Beatrice Rooks' first college goal propelling the Titans to victory. Here are 27 photos from that game, including many of Midland goalkeeper Niobe Marchalant, as West kept her busy. #TCREhttps://t.co/i6XK70kPFF pic.twitter.com/IWBbrro3Ls

— James Cook (@JamesCook14) May 28, 2022
When the ball found Rooks with some space to work with, she dribbled a bit and unleashed a high, arcing shot from outside the box for a 2-1 second-half lead. Her teammates took it from there, dumping two more scores over the next six minutes to lock down a previously tightly contested game.
"Once we leveled the game I thought, 'We got them,'" said Midland head coach Rodrigo Barassi. "Then that nice shot, man, away from the post from (Rooks). It was 2-1, now we have to push and here's three, here's four.
Rooks' goal — his first in college or junior college — gave West the clear momentum with 20:49 remaining after the Chemics tied the game just over four minutes earlier. West was largely in control before Midland second defender Kennedy Thurlow tied the game 1-1 at 25:09.
"I kind of cut it around (a defender) and then took a touch and shot it," Rooks said. "It was a good shot. I didn't think it was real. It was so surprising to me.
That might be an understatement.
Football teams clearly outplaying the other side but not getting a multi-goal lead and giving up the equalizer can be a backbreaker. But the second Titan didn't let that happen. As his shot echoed off the crossbar, the momentum shifted completely in West's favor.
"It was really good because the whole team kind of picked themselves up from that and just set the tone," Rooks said.
Just 1:26 later, Amelia Blume scored for a 3-1 lead and second Lily Smith put the icing on the cake with 9:45 remaining on assists from Blume and Ally Jo McKenna.
"We just brought her to college and a couple of injuries have fallen on her and she's been playing great and scoring a goal on the board," West head coach Savanna Wojtanowski said. "You really can't complain about that. She played really well. »
Rooks came on as starting defensemen Jenna Rawlin and Ahna Campbell missed the game with injuries, and Kaylee Niezgoda's minutes were limited on defense as she also returned from injury. Titans rookie Gwen Allore recorded the win in goal.
West's first goal came with 10:15 left in the first half. Sophomore midfielder Lila Warren sent a corner kick straight into the net past Midland freshman goalkeeper Niobe Marchalant, who had to make plenty of saves to keep the Chemics (7-7- 4) in the game.
The Titans (11-3-4) host Alpena — who beat Saginaw Arthur Hill 9-0 on Friday — at 6 p.m. Tuesday. West beat Alpena in both regular season meetings, by a combined score of 7-0. Traverse City Central hosts Midland Dow – who topped West 2-1 three weeks ago – at the same time on Tuesday at the Trojan Athletic Complex.
"I'm delighted to see them again," Wojtanowski said. "I certainly can't ignore them. It was a tighter game the second time here so we expect the same.
West has scored two or more goals in three or more consecutive games for only the second time this season.
"We've struggled to score all year," Wojtanowski said. "So it was nice to get a few goals into the back of the net. It feels like it's all finally coming together, scoring a goal from a cross, scoring a goal from a corner. We're definitely starting to see it all come together in place at the right time.
Follow @Jamescook14 on Twitter.