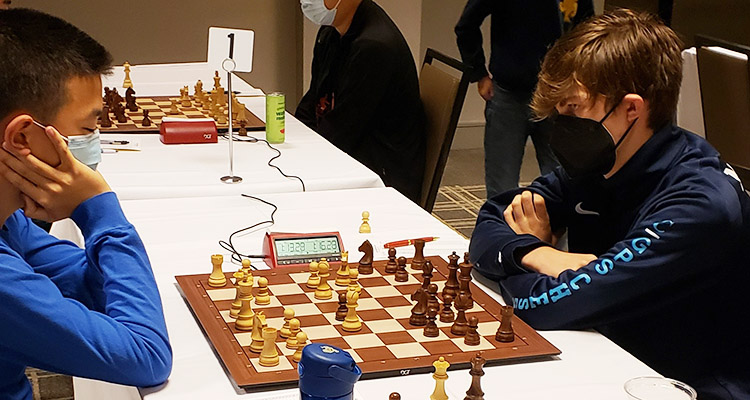 Chasin wins 2022 American Cadet
The 2022 United States Cadet Championship took place July 7-10 at the Hyatt Regency in Schaumburg, IL. Eight of America's top under-16 players competed for $2,000 prizes and a $10,000 scholarship sponsored by US Chess and the Dewain Barber Foundation. Wilson-Chess and King Tournaments were the co-organizers, and the event was held alongside the Chicago Summer Open 2022 and Blitz.
Ranked fifth at the start of the event, FM Nico Chasin dominated the event, his six points leaving him a point and a half ahead of IM Arthur Guo in second place. I told Chasin about his victory after the tournament.
Dan: What went through your mind once you took the lead?
Nico: Once I took the lead after the third round, I thought we had four more games to play; anyone can catch me. Later in the tournament, the lead started to become more significant.
Dan: At the start of the sixth round, how did you feel and what were your thoughts?
Nico: I felt good before the sixth round, but I expected the worst: Arthur would win his match against FM Bach Ngo and I would lose mine. So, going into the seventh round against Arthur Guo, I thought it would be fine, because I would have the white pieces. And if we tied and went to a playoff blitz, I felt like I could take it.
What follows is Chasin's sixth match, where victory gave him the tournament with one round to spare. Thanks to Nico for this exclusive analysis.
Dan: One last question: with so many young chess players watching your games, what advice would you give to these young chess players who look up to you and want to be the best chess player they can be?
Nico: Make sure at the end of the day you remember [chess] is a board game; although it is more than that for many people. You just can't panic when things don't go your way. You have to live and learn because you won't win every match or make perfect moves all the time.
I also spoke to FM Ryo Chen who, at 12, was the youngest player on the board. Chen scored 3/7, tied for fifth place with IM Eddy Tian. Here is his match against IM Arthur Guo with his analysis, exclusively for CLO.
Dan: As the youngest player in the 2022 Cadet Championship, some of the young players watching you wanted me to ask what advice you would give to young children trying to become the best chess player they can be.
Ryo: Play as many games as you can. They should also do tactics, but play chess, play online, play on the board, play chess a lot.
Quick links:
2022 United States Cadet Championship Information and Scholarship Information